Best Motorcycle Accident Attorneys in Omaha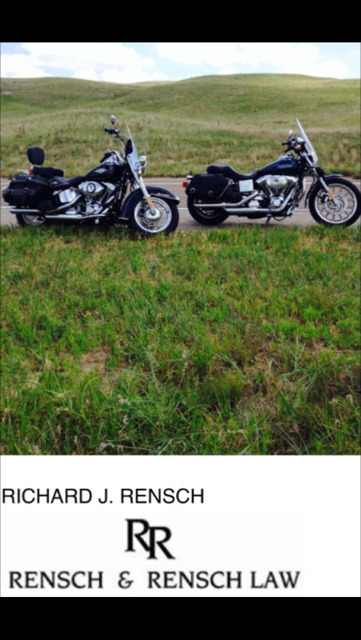 Riding a motorcycle in Omaha can be a thrilling experience. Many motorcycle riders are trained, skilled, and safe, but they are also aware that they cannot control the actions of other drivers on the road. Drivers of trucks and passenger vehicles may not always be looking out for motorcyclists. Many motorcycle accidents occur when vehicles are turning. Drivers may be looking out for large trucks or other passenger vehicles, but may not see when a motorcyclist is too close. When accidents do occur, the clear majority of the time the collision is not the fault of the motorcyclist, the person most often to suffer serious injuries is the rider.  Motorcyclists don't have the protective chassis of a car to prevent them from hitting the ground in an accident. This can lead to more serious injuries with longer recovery times. This can place immense stress on motorcycle accident victims and their families. Riders may miss time at work, face long recovery periods, experience pain and suffering, and must incur expensive medical care bills. While the law offers protections to injured motorcyclists, riders and their families may not always know what steps they need to take to protect their rights after a crash. Rensch & Rensch are top motorcycle accident attorneys in Omaha who work tirelessly to protect the rights of survivors of motorcycle crashes. If you or a loved one has been hurt in a crash, contact Rensch and Rensch motorcycle accident attorneys today to learn more about your rights.
Insurance and Motorcycle Accidents in Omaha 
Before Riding Your Motorcycle 
Buy adequate insurance coverage for your own protection.  Buy the highest amount of insurance coverage you can afford.  Do not skimp.  You will be surprised how cheap and rewarding it is – going to the next level of coverage.  You want liability coverage that protects your gross assets and earning power in the event you make a critical mistake causing catastrophic injury to others.  More importantly, you want to buy the highest amount of uninsured motor vehicle insurance and underinsured motor vehicle insurance coverage you can afford for those bad drivers out there who negligently drive around uninsured or who are underinsured because they purchased only the statutory minimum in liability coverage.  In Nebraska, the minimum is $25,000.   Assume that when you are involved in a motorcycle accident – you will suffer severe – catastrophic injuries, due to negligent automobile drivers.  There is no getting around the fact that the likelihood is great a motorcyclist will brake bones, suffer internal thoracic and/or head injuries and lose weeks of work because of a contact collision between an auto or truck and motorcycle.
Take it from the lawyers at Rensch and Rensch – if you follow our suggestions you will thank the day you read these words.  We advocate purchasing a policy that provides much more than the State mandatory minimum.  At the very least, riders should buy coverages of $100,000/$300,000 on liability, uninsured motorist and underinsured motorist.  Why protect others from you – more than you protect yourself from others?  The whole idea of uninsured motorist insurance and underinsured motorist insurance is to protect yourself and your loved ones from dangerous drivers who don't care about your well-being or the well-being of your loved ones.  We also strongly recommend at least $10,000 in Medical Payment Coverage (Med Pay) that inexpensively protects you and your passengers.  A medical payment endorsement doesn't cost much and provides payment for medical bills only – regardless of fault.  As explained below, Med Pay can be used by you in some cases to pay your Health Insurance co-pays.
After Your Motorcycle Accident
If you are injured in a motorcycle accident, there are some immediate steps you can take to further protect yourself and your legal rights. What steps should you take following a motorcycle accident in Omaha? Here are a few things to consider:
Seek medical attention.
Report the accident to the police.
Contact your insurance company.
Find a motorcycle accident attorney in Omaha.
The Importance of Medical Care: If you've been in a motorcycle crash in Omaha, it is incredibly important that you seek appropriate medical care. Not all injuries manifest immediately when an accident takes place. For instance, motorcycle accidents sometimes result in head injuries. However, the symptoms of mild traumatic brain injury and other potentially deadly or dangerous head injuries can take hours, or days before symptoms appear. Protect yourself and your well-being and always seek proper medical care after a crash—even if you feel fine. Other conditions that can take a while to appear include post-traumatic stress disorder. Post-traumatic stress disorder can result in sleep problems, depression, and loss of enjoyment of life. Motorcycle riders may find themselves no longer wanting to ride, or panicking when they get back on a motorcycle. Proper medical care can help individuals reclaim their lives. Always seek the care of a doctor after a crash.
Give the Hospitals and Doctors (Providers) your HEALTH INSURANCE CARD AND INFORMATION:  If you are smart or fortunate enough to have health insurance (private such as Blue Cross Blue Shield or public such as Medicare or Medicaid) furnish your providers with your insurance card and information.  Demand that the providers submit your bills for your motorcycle accident related treatment to your Health Insurer.  The Providers will resist you.  They want to get paid 100% of the inflated charges for their services.  Your Health Insurer will have "Provider Contracts" with your providers.  This requires the providers to bill only per the contracted schedule of payments for each coded type of treatment.  Most of the payment schedules pay less than half the super inflated medical charges.  For example, a $1000 medical bill is reduced to $500.  Your 20% co-pay is like-wise reduced from $200 to $100.  Also, any reduction in the medical bill due to the Health Insurer's provider contract, will equate to a dollar for dollar increase in your pocket at the time of settlement.  Why?  Because the providers must be paid.  They want to be paid 100% of their inflated bill from your settlement proceeds.  That will not happen – if you follow these simple steps and USE YOUR HEALTH INSURANCE!
For those of you with Medical Payment Coverage (Med Pay), as part of your motorcycle insurance, use Med Pay to pay your deductibles, if allowed under the terms of your Health Insurance Policy.  If you have Health Insurance, only give Health Insurance information to the providers.  Do not give the providers the name of your liability carrier or the name of the liability carrier of the negligent driver.  The key is to give out your Health Insurance information only – if you wish to maximize your settlement recovery.
Reporting the Accident: When you report the accident to the police, provide the officer with the facts, but don't accept blame for the accident. Negligence for a motorcycle accident is often complex to determine. You may not be aware of all the laws involved or you may not be aware of all the factors involved. For instance, you may not know that the other driver may have been drinking or under the influence of drugs. Never accept blame. Answer officers' questions honestly and clearly, but protect your rights after a crash. Reporting even a minor motorcycle accident is important because injuries don't always make themselves apparent right away. Reporting the accident will help you if you later need to file a claim with insurance.
Contact Your Insurance Agent: As discussed in more detail above, all registered motorcycles in Nebraska must have proper insurance. Nebraska motorists are required to hold a policy that covers at least $25,000 in bodily injury and $25,000 for property damage. Some policyholders have higher limits. It can be difficult to know what a policy does and doesn't cover and what recovery you may be entitled to receive.  If you feel what the adjuster is offering to you for a settlement recovery is lower than what you need or expect, a top motorcycle accident lawyer in Omaha may be able to help you. Rensch & Rensch are among the best motorcycle accident attorneys in Omaha. We can speak to adjusters, read over your policy, and fight to help you get the recovery you may deserve under the law. In some cases, you may be able to sue the negligent driver to make up for gaps in coverage. Every case is unique. Learn more about your rights by contacting Rensch & Rensch today.
If you've been hurt in a motorcycle crash, it may be wise to find a motorcycle accident lawyer in Omaha. Rensch & Rensch are qualified motorcycle accident attorneys. As riders ourselves, we understand the unique challenges riders face when they are on the road.
Contact a Top Motorcycle Accident Attorney in Omaha Today 
There are many things to think about if you've been in a motorcycle accident. You and your loved ones may be struggling to figure out how to pay medical expenses or rehabilitation fees. You may be worried about the long recovery process. You may have to miss time at work and may wonder how you'll manage financially with the loss of an income source. Fortunately, the law offers motorcyclists important legal protections following an accident. You may be entitled to collect a recovery to cover medical expenses, lost wages, pain and suffering, and property damage. You only have a limited amount of time under the law to file a claim. Rensch & Rensch are caring, compassionate, and aggressive motorcycle accident lawyers in Omaha. We will speak to witnesses, talk to insurance adjusters, and investigate all aspects of your case to help you get the best possible recovery under the law. You don't have to suffer alone. Our lawyers are motorcycle riders and we understand the challenges riders face after a crash. We can help.